WPC wood plastic composite panel (Wood Plastic Composite Decking, referred to as WPC decking) is a new type of outdoor flooring material. It uses wood powder/fiber and plastic (such as polyethylene or polypropylene) as the main raw materials, and is made by mixing, extrusion and other processes.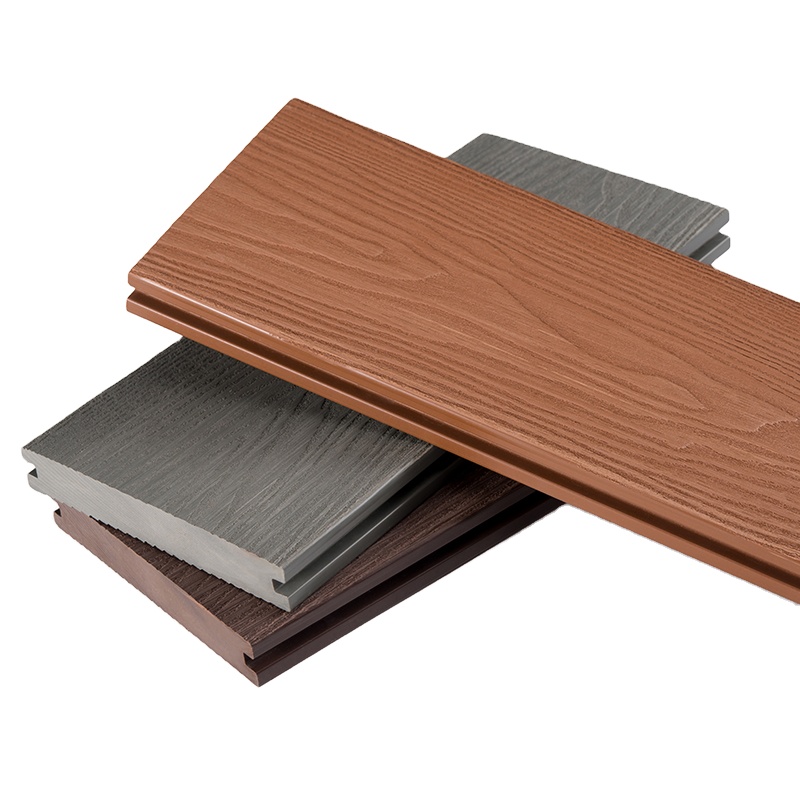 WPC decking has many advantages that make it one of the ideal choices for outdoor flooring. Here are some of its main advantages:
Weather Resistance: WPC decking has excellent weather resistance and can easily cope with various severe weather conditions. It is not easily affected by sun, rain, heat or cold, and will not deform, crack or rot, maintaining long-lasting beauty and functionality.
Durability: Due to the combination of wood powder/fiber and plastic used in WPC decking, it is stronger and more durable than traditional wood. It is not prone to scuffs, scratches or breakage, and can withstand prolonged use and frequent walking, moving furniture and more.
Environmental protection: WPC decking is an environmentally friendly option. It uses discarded wood and plastic, reducing the deforestation of natural forests. By recycling waste materials, WPC decking helps reduce waste and reduce environmental pollution.
Easy to maintain: WPC decking is very easy to maintain. It requires less painting, waxing or special cleaners as often as traditional wood floors. Just clean it regularly, using soapy water or mopping with water to keep it looking good.
Good anti-slip performance: WPC decking surfaces usually have good anti-slip performance, which can provide a safe pedaling experience even in wet or slippery environments. This is especially important for outdoor venues, poolsides, patios and other areas prone to slippery conditions.
Diverse Design Options: WPC decking offers a wide variety of design options that can mimic the look and texture of a variety of woods, such as solid wood flooring, oak, pine, and more. In addition, different colors, sizes and styles can be selected according to personal preferences and design needs, so that they can perfectly integrate with the outdoor environment.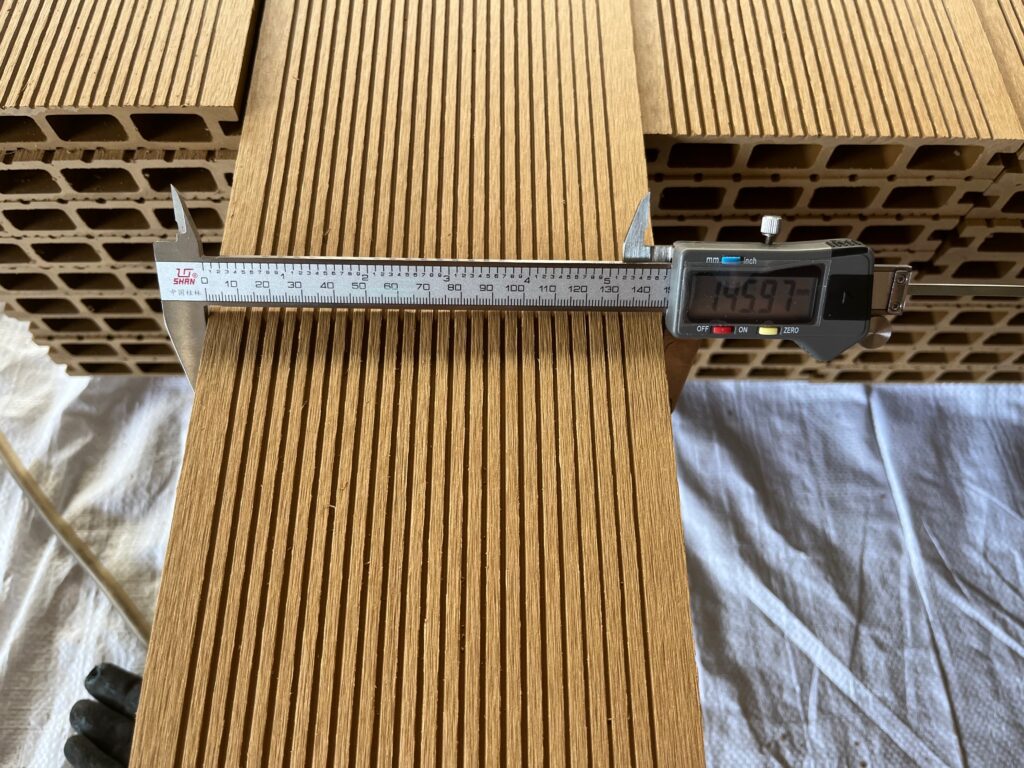 Here are some of its main applications:
Home gardens: WPC decking is ideal for areas such as patios, decks and walkways in home gardens. It can provide a comfortable, stable and durable ground for family members to relax and relax.
Poolside: WPC decking is very popular around swimming pools. Its non-slip properties prevent people from slipping and falling in wet environments, while its weather resistance makes it resistant to corrosion by pool water, sunlight and chemicals.
Parks and scenic spots: WPC decking can be used for flooring in parks, scenic spots and outdoor entertainment areas. Its durability and weather resistance allow it to handle heavy traffic and use in all weather conditions.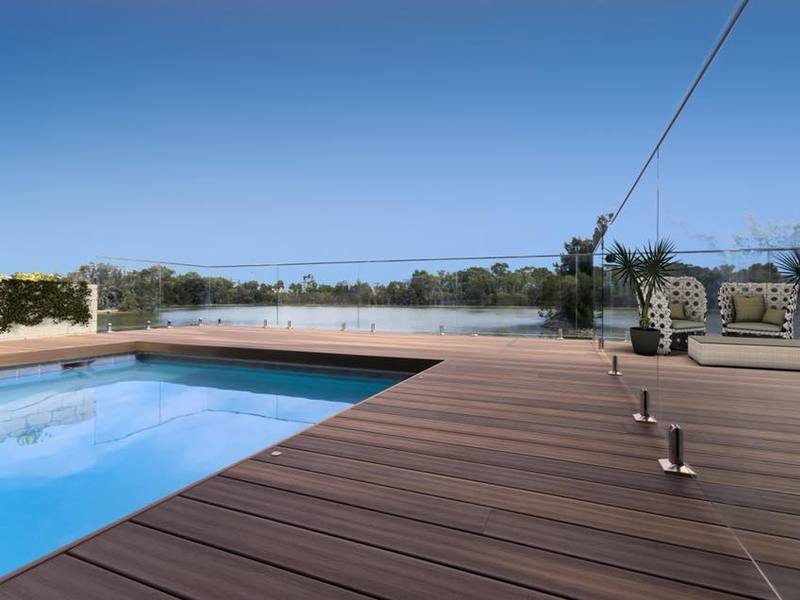 Commercial places: WPC decking is also widely used in commercial places, such as restaurants, open-air cafes, hotels and resorts, etc. It not only provides a beautiful appearance, but also creates a comfortable and safe environment to meet the needs of customers.
Schools and Kindergartens: WPC decking is suitable for outdoor activity areas in schools and kindergartens. Its non-slip performance helps reduce children's fall accidents, and it does not produce sharp edges or irritating odors, which is harmless to children's safety and health.
Commercial dining area: The application of WPC decking in commercial dining area is becoming more and more popular. Its easy-to-clean features allow caterers to easily maintain clean and hygienic floors.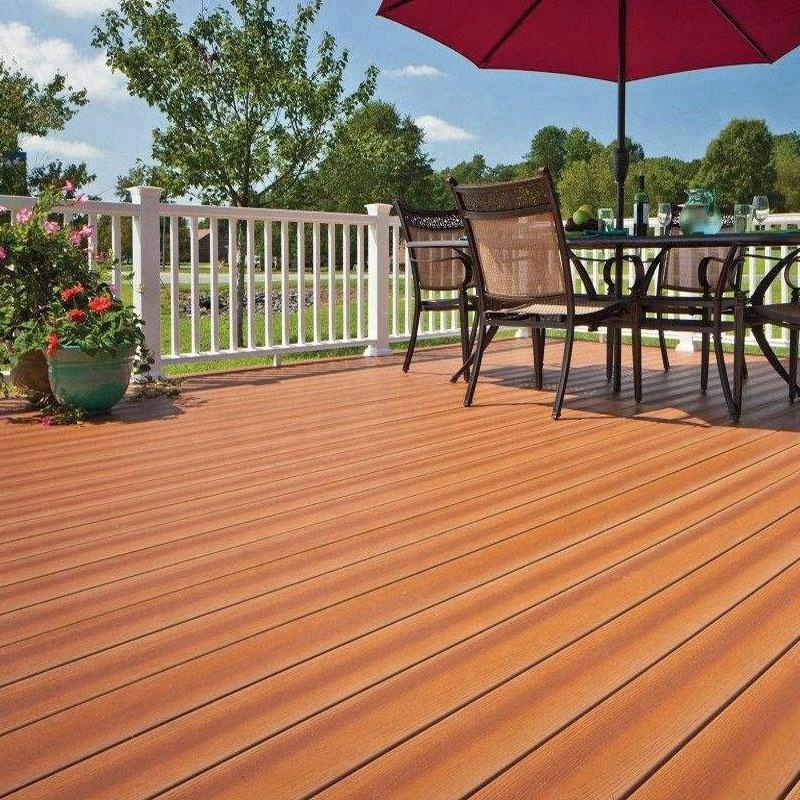 In general, WPC decking is an outdoor floor material with excellent performance and environmental protection characteristics. Its weather resistance, durability, slip resistance, and wide range of design options make it a favorite choice for many, whether in the home garden, patio, or public space.